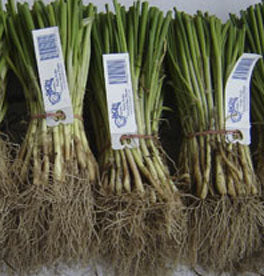 Walla Walla Onion Plants
Regular price
$11.95
$0.00
Unit price
per
Heirloom. Walla Walla Onion is the gourmet onion of the Pacific Northwest. Some say the world's best tasting onion,  large, fragrant and mild. For years growers in Walla Walla, Washington have been planting this onion.
The easiest way to grow and enjoy the juiciness and delicate flavor of the famous northwest Walla Walla Sweet Onion. Bundles are collected by size contain approx. 50 plants, larger bulbs can mean fewer plants, and are shipped to you in spring only at planting time. SHIPPED MARCH THRU APRIL
Plant one or two inches apart for salad size onions and 6 to 8 inches apart in the row for full size onions. Plant in full sun, well drained garden soil. Keep the onions free of weeds and water evenly so they never stress for moisture. When tops are dry and fall, cut the tops off and allow the cut portion to dry. Pull onions and store in a cool, dry place. Enjoy these famous onions on hamburgers, salads, sandwiches, soups,  or any number of meat and vegetarian dishes.  If you are not quite ready to plant when the onion sets arrive, they will keep as they are in a cool area for a few days. If you need to hold over for more than a week, (can be stored for up to a month) separate the bundle and store in moist sawdust, coconut fiber or in a similar product. If the tops show a little drying,  just cut the dry portion off before planting.
---