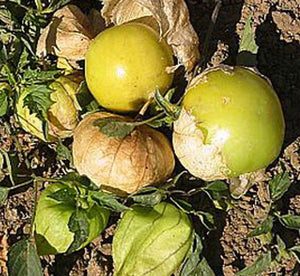 Tomatillo
Regular price
$2.95
$0.00
Unit price
per
Physalis philadelphica. Open pollinated. Heirloom.
68 days. 

Harvest the 2" diameter Tomatillo when green and firm.

Native to Mexico where it is used in a variety of dishes and in the famous Salsa verde or green sauce. Well adapted to northern gardens.

If you can grow green tomatoes you can grow Tomatillos.

Domesticated by the Aztecs as early as 800 BC.
Planting Directions:  Sow seed indoors 4-6 weeks before your last frost. Plant seed 1/4" deep in a sterile seed starting mix with a soil temperature of 70°-80°. Transplant outdoors when soil is 60°-80°.  Transplant into average well drained garden soil in a sunny location.  Space plants 18" apart.  Provide steady moderate moisture.  Harvest fruits while still firm.  If not allowed to become soft, yellow or over mature,  fruit will keep several weeks.
---