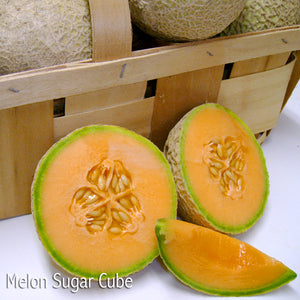 Sugar Cube Melon (F1)
Regular price
$3.95
$0.00
Unit price
per
Hybrid.
75 days. 

Sugar Cube Melon, a new super sweet small 1.5-2 lb. melon with a brix of 14% .

Delightful and fragrant with amazing quality. 

This is the most disease resistant package of any melon on the market including powdery mildew and fusarium.

While this variety includes some charentais parentage it slips from the vine. Get ready for a gourmet experience. 
Planting Directions:  Plant seeds indoors 3 to 4 weeks before last frost. Sow seed ½" deep in sterile starting mix, maintain soil temperature of 75° to 95°. Transplant into garden when soil temperature reaches 65° to 85°.  Amend soil with rich compost or a general garden fertilizer. Direct sow after last frost when soil temperature is consistently 70°-85°. Water regularly during growing cycle and cut back or discontinue watering when melons are ripening. Melons need warm soil. If set out too early the plants will be stunted and the yield will be cut dramatically. Use plastic row covers or garden blankets and/or dark mulch to maintain soil temperature.
---