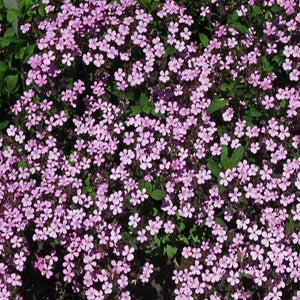 Soapwort, Rock
Regular price
$2.95
$0.00
Unit price
per
Saponaria ocymoides. Perennial. 10".
Rock Soapwort is a delightful flowering plant, excellent in rock gardens. Reddish stem, ovate green leaves topped with a profusion of pink flowers in early spring. Forms a green mat for remainder of the year. Lovely cascading over the edge of a  rock garden. Drought tolerant, once established rarely needs watering. Hardy to Zone 3.

Planting Directions:  Sow seed indoors in sterile seed starting mix with soil temperature of 70°.  Sow seed outdoors in spring or summer up to 2 months before first frost. Plant seed 1/8" deep. For best germination results moist chill the seeds at 38° for up to 4 weeks. Cover seed tray with a plastic bag and place in refrigerator for this chilling. Germination takes 10-21 days. Thin or transplant when plants are about 2" tall, and space 12" apart each way. 
---