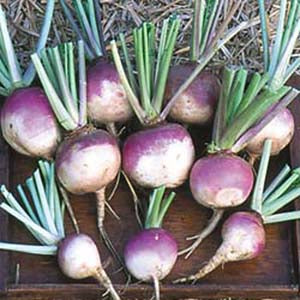 Purple Top White Globe Turnip
Regular price
$2.95
$0.00
Unit price
per
Open pollinated. Heirloom.
50 days. 

Smooth white roots with purple-red shoulders above the soil average 3-4" in diameter.

Tender, fine grained flesh and mild flavor make Purple Top White Globe Turnip an American favorite.

Tops may be used as greens.

Introduced prior to 1895.
Planting Directions: For a first crop, plant as early in Spring as ground can be prepared until early summer. For fall and winter crop plant in early August.  Soil temperature 50° to 95°. Turnips grow best when soil temperature is between 40°-75° in loose, well drained soil. Usually does need additional fertilizer if organic matter is incorporated into soil. Sow seed 1/4" deep  in rows 12-18" apart. Begin thinning when plants are 3-6" tall until plants are 4-6 " apart.  Cultivate and weed frequently. Water moderately on a regular schedule.  Greens obtained from thinning or young plants are good to use as cooked greens. Just be careful not to harvest too many leaves from one plant or turnip growth will be slowed.
---