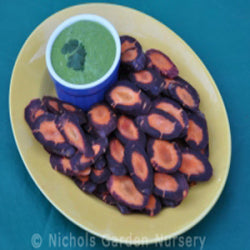 Purple Haze Carrot (F1)
Regular price
$2.95
$0.00
Unit price
per
Hybrid. 70 days.

Purple on the outside and orange on the inside. These sweet tasting 8-10" roots are best eaten raw so the showy color is on display. 

Cook and the color and flavor lessens but the high levels of anthocyanins remain. 

Carrots became orange in the 17th century when Dutch growers selected to honor the House of Orange. Early carrots were most often white or purple.
---