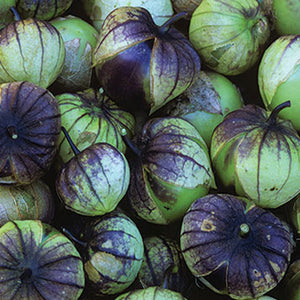 Purple De Milpa Tomatillo-Organic
Regular price
$2.95
$0.00
Unit price
per
Open pollinated. Heirloom. 
70 days.

Large three foot sprawling plants.

Purple De Milpa Tomatillo are the smaller 1-2 oz. fruits that historically grew wild in cornfields.

The purple fruits have a sharp intense flavor, store well and make a great sauce or salsa.

Interesting color and flavor play combined with white cheeses in an enchilada. Delicious raw or cooked. Think beyond the corn chip.
Planting Directions:  Sow seed indoors 4-6 weeks before your last frost. Plant seed 1/4" deep in a sterile seed starting mix with a soil temperature of 70°-80°. Transplant outdoors when soil is 60°-80°.  Transplant into average well drained garden soil in a sunny location.  Space plants 18" apart.  Provide steady moderate moisture.  Harvest fruits while still firm.  If not allowed to become soft, yellow or over mature, bruise free fruit will keep several weeks.
---