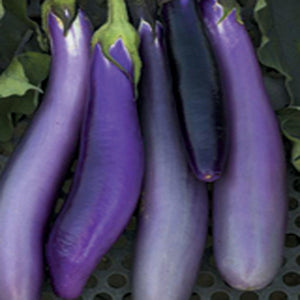 Ping-Tung Long Eggplant
Regular price
$3.25
$0.00
Unit price
per
Hybrid.
65 days from transplant.

24"-30" tall plants.

Excellent flavor, plants can yield up to 20 eggplants and what a showoff!

Mild flavor, harvest slender 1.5" fruits at 10" to 12" or even smaller if plants are loaded with fruit.

May want to stake plants as fruits set.


Good for curries or stir-fry.
Planting Directions:  Sow seed indoors 4 to 6 weeks before last frost with a soil temperature 75° to 95°. Plant seed ¼" deep in sterile seed starting mix. Once seed germinates reduce temperature to 70°. Harden off seedlings for at least one week prior to transplanting by reducing air temperature to 60? and reducing watering. Set plants out when soil temperature is consistently at least 80°, spacing plants 18-24" apart. Plant in soil rich in compost or soil that has been amended with a general garden fertilizer.  We recommend Garden Row Cover be used to maintain consistent warm growing environment and to keep insects away from the plants.
---