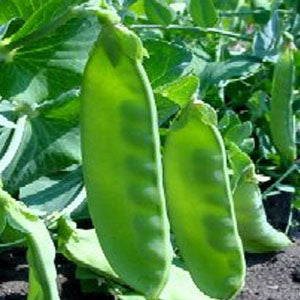 Oregon Giant Sugar Pod Pea
Regular price
$3.25
$0.00
Unit price
per
Open pollinated.
70 days.

Bush vines grow to 30".

Large wide pods (5 1/2" X 1") are sweet and succulent.

Oregon Giant Sugar Pod Pea are semi-wrinkled seed lacks the bitterness associated with some edible podded varieties so you can safely pick these a little plumper and more mature.

Resistant to pea enation mosaic virus, powdery mildew, and fusarium (race 1).

Recommended for the full season. Last sowing in Western Oregon is August 1.

Developed by Dr. James Baggett at Oregon State University
Planting Directions
:  
Sow seeds directly outdoors in early spring as soon as the ground can be worked. Germinates at 40° - 75° . Plant seeds 1" deep, 3" apart, in rows spaced 2 1/2'.  Plant directly outdoors again in summer 2-3 months before last frost. Grow in full sun. For best quality harvest peas just before using.
---