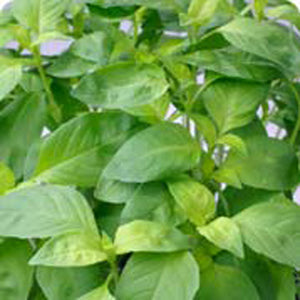 Basil, 'Mrs. Burns' Lemon
Regular price
$2.95
$0.00
Unit price
per
Ocimum basilicum. Annual. 30".
Mrs. Burns, a cherished New Mexico heirloom, is tall and vigorous with a lovely fresh lemon scent.

Leaves tend to be 2" long.

Delicious with fish, chicken, salads and teas,; use wherever you enjoy basil or lemon.
  Planting Directions: Plant seed indoors 4 to 6 weeks before last frost in sterile seed starting mix at 75-85°. Just barely cover the seed. Transplant to the garden when soil temperature is consistently 75°-85° in moderately fertile soil, spacing plants 6" apart. Basil needs warmth to grow, plant in full sun in a warm, sunny location. Water moderately and do not let the soil dry out as basil has shallow roots. In warm regions basil can be seeded directly in the garden when soil temperatures are adequate. When plants are 4-6" tall cut out the growing tips for a fuller, more productive plant. Begin harvesting when leaves are large enough to use and harvest all of the basil before cold weather begins.
---