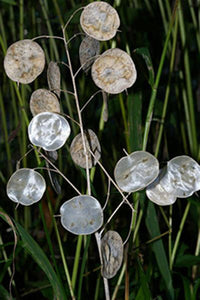 Money Plant
Regular price
$2.95
$0.00
Unit price
per
Lunaria annua. Biennial. 3'.
Honesty, Silvery white, paper thin, oval seed pods that look like large silver coins. Attractive in arrangements.
Planting Directions:  Sow seeds in early spring, when soil is cool and a light frost is still possible, or in early autumn where winters are mild.  Cover seed with 1/8" of fine soil, well pressed down.  Germination takes 10-14 days with soil temperatures of 70°.  Thin plants to stand 12-18" apart in full sun or part shade.  Plant in well prepared soil that has been amended with rich compost or a general fertilizer. Money plant tolerates dry soil. Mulch well before first winter and do not transplant.  Will self seed. Can be started 6 to 8 weeks prior to transplanting, but it is best to start where they are to grow.
---