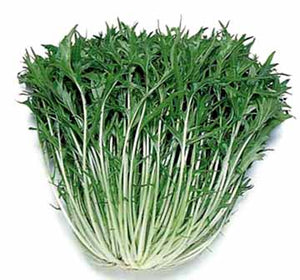 Mizuna
Regular price
$3.25
$0.00
Unit price
per
Brassica juneca
Open Pollinated.
35 days.

Called Japanese Greens in China. 

Attractive plants with hundreds of tender, juicy stemmed serrated leaves. 

Mizuna is crisp and mild in flavor.

 

Tolerant to cold and rain.

 

Sow from very early spring until frost. 
Planting Directions:  Sow directly into soil when soil temperature is between 45° to 75°.  Sow seed ¼" deep. Soil should be loose, well drained and of moderate to good fertility. When plants are well established, thin to 1-2" apart and continue thinning until plants are about 6" apart. Water moderately on a regular schedule.  Plant in full sun.  The plants you thin out are excellent salad greens. Sow continuously while the weather is cool in spring and resume again in fall as the summer temperatures fall.
---