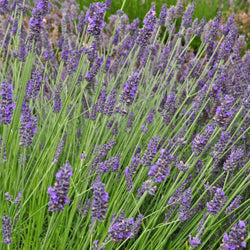 Lavender English
Regular price
$2.95
$0.00
Unit price
per
Lavandula angustifolia. Perennial. 3'.
Lavender is native to the Mediterrean area, grows best in well drained soil and flourishes in drought conditions. The word lavender comes from Latin lavare which means to wash. Grey foliage all year long. Purple flower spikes of Lavender rise above the grey green narrow leaves. Lavender flowers are used to make oil, lavender water and can be found in the popular herb blend Herbs de Provence. Use the flower stalks to make a Lavender sachet to  repel moths or weave into lavender sticks, simply bend the stems over the blossoms and weave ribbon thru the stems. Rub between your hands to release the pleasing lavender scent. 
Planting Directions: Sow seed indoors in sterile seed starting medium. Just cover the seed. Moisten, place in plastic bag and put in refrigerator with temperatures of 35°-40°. Refrigerate for 4-6 weeks. Remove and warm soil up to 65°-70°. Germination time is 15 to 90 days.  Transplant outdoors in late spring spacing plants 24" apart in well drained soil that has been amended with rich compost or general garden fertilizer. Water moderately well for the first year after that plants will need only occasional watering. When harvesting blossoms, cut as long of spikes as possible and dry away from direct light in well vented area. Established plants should be pruned down to at least 1" of old growth after harvest or in August to maintain plant vigor and form.
---