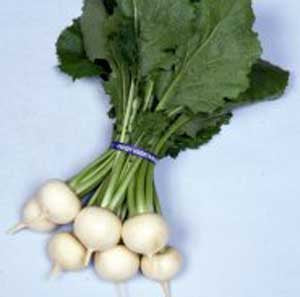 Kanamachi Turnip
Regular price
$2.95
$0.00
Unit price
per
Open Pollinated. 
29-45 days. 

Similar to Tokyo Market that listed but can no longer obtain seed.  

Very early, all-white turnip with smooth, tender flesh. Slightly flattened roots mature to 2 inches.  

As with Tokyo Market, this variety is excellent pickled. 

Plant in early spring and again in late August for a fall harvest. 
Planting Directions: For a first crop, plant as early in Spring as ground can be prepared until early summer. For fall and winter crop plant in early August.  Soil temperature 50° to 95° Turnips grow best when soil temperature is between 40°-75° in loose, well drained soil. Usually does need additional fertilizer if organic matter is incorporated into soil. Sow seed 1/4" deep  in rows 12-18" apart. Begin thinning when plants are 3-6" tall until plants are 4-6 " apart.  Cultivate and weed frequently. Water moderately on a regular schedule.  Greens obtained from thinning or young plants are good to use as cooked greens. Just be careful not to harvest too many leaves from one plant or turnip growth will be slowed.
---