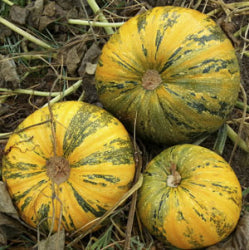 Kakai Pumpkin
Regular price
$3.25
$0.00
Unit price
per
Cucurbita pepo
100 days 

Kakai pumpkin's hulless seeds are a delicious and a healthy snack. Many health and medical claims are made for the seeds and oil of pumpkin seeds.

After harvesting the pumpkins you should remove the seeds as soon as practical, rinse and dry and then lightly toast at 140° F. This may take a few hours but the nutrients in this pumpkin should not be exposed to high heat as in baking. Keep an eye on the seeds, turn them with a spatula and minimum toasting enhances the flavor. 

This round orange pumpkin with dark green striping makes an attractive fall display.

The pumpkin shell is best used for compost or animal fodder as it's not the best for table food.
Planting Directions:  Plant in spring when ground has warmed 70° to 95°, with 86° optimum. Plant in soil that has been amended with rich compost or general garden fertilizer. Plant 6-8 seeds 1/2" to 1" deep in hills spaced 6'-8' apart. Thin seedlings to 3 per hill. Seeds may also be started indoors 3 to 4 weeks before last frost. Transplant to hills after all danger of frost has past and soil remains a consistent  65°-75°. Pumpkins need heavy watering on a regular schedule. Fruits are ready when the rind is hard to the fingernail and changes color to orange.
ROASTED PUMPKIN SEEDS
Scoop seeds out of pumpkin and wash and remove fleshy membranes. Rub in a towel to remove excess water. In a bowl toss seeds with 1-2 tsp Olive Oil and salt, garlic powder and tamari or soy sauce to taste. Or experiment with different seasonings until you have a combination you and your family truly enjoy. Toast on a cookie sheet in a 350° for 10-15 minutes, stirring several times. Cool and enjoy. Store in an air tight container.

---