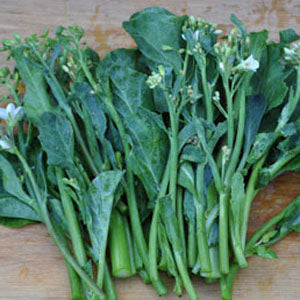 Gai Lohn - Chinese Broccoli
Regular price
$3.25
$0.00
Unit price
per
Brassica oleracacea alboglabra. Open Pollinated. Heirloom.

50 days to maturity.

Heat resistant with edible stalks, young leaves and buds. 

Sow seed of Gai Lohn or Chinese Broccoli in early or late summer. Easily grown. 

When white buds form cut stalks 6" to 8" from the top of plant to force new growth. 

Cook stalks leaves and buds all together as you would broccoli for a most appetizing vegetable.
Planting Directions:  Plant in spring when soil temperature  is between 45° to 75°, optimum 72 °. Plant in fertile soil enriched with compost or garden fertilizer 2-3 weeks prior to planting. Sow seed 1/4 " to 1/2" deep.  Thin seedlings to stand 12-16" apart. Water heavy during growing season and do not water after first frost in fall. Sow in September for a fall and winter crop. Light frost improves flavor and sweetness.
---