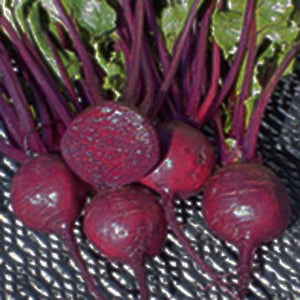 Detroit Dark Red Beet
Regular price
$2.95
$0.00
Unit price
per
Open pollinated. Heirloom.
58 days.

Productive smooth round roots of Detroit Dark Red Beet are 2.5 to 3 inches in diameter.

Dark red beets are solid and store well.

Larger beets are still tender, sweet and juicy when baked, cooked or pickled.

Young red tinged leaves are good for salad mixes.

Downy mildew resistant.


Introduced in 1892. All American Selection. 1935.
Planting Directions
:
Sow seed ½" to 1" deep in spring when soil temperature is 50° to 80° with 75° optimum. Can be planted outdoors 3-4 weeks before last frost. Beets grow and produce best in cool weather, mulch the soil if necessary or plant in shade of other vegetables. Keep soil evenly moist at all times. Work soil deeply in the spring adding compost or a general garden fertilizer that is low in nitrogen. Thin plants to 2"-3" apart. Plant again in late summer for a fall crop.
When the plants are young, the tops can be used as 'greens'. 
---