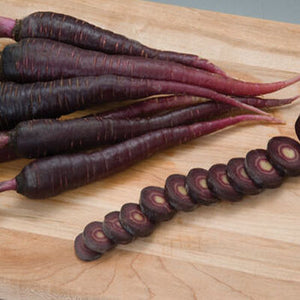 Deep Purple Carrot Hybrid
Regular price
$3.25
$0.00
Unit price
per
Open Pollinated.
75 days.

Straight, tapered roots grow 7-8" long with strong tops for ease of

harvest.

Sweet flavor, smooth skin.

Purple all the way to the core, if

lightly cooked

the purple color will remain.

Even if color lessens the high levels of anthocyanins remain. Good for juicing.
 Planting Directions: Direct sow in early spring to midsummer when soil temperature is between  45° to 85°. Plant seeds 1/4" deep as sparingly as possible spacing rows 6-8" apart. Thin to at least 2" between plants. Prepare the soil in spring by working in a generous amount of well rotted compost. If compost is not available, plant in loose, rich soil that has been amended with a general garden fertilizer. Rake and smooth the soil  surface before planting. Carrots grow best when soil temperature are 60° to   70°. Add a layer of mulch around the plants to help keep soil cool. For highest yields sow carrots in a bed and thin 2-3" apart. . 
---