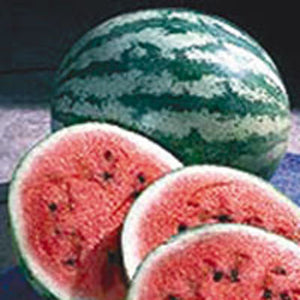 Crimson Sweet Watermelon
Regular price
$2.95
$0.00
Unit price
per
Open pollinated. Heirloom
85 days

Crimson Sweet Watermelon averages 12" x 10", around 25 pounds.

Eight foot vines produce 3-6 fruits.

Excellent quality, crisp, deep red flesh is sweet and juicy.

Bright green rind with alternating light and dark green stripes.

Serve with pride at summer picnics.

Resistant to wilt and anthracnose.

All America Selection 1964.
Planting Directions:  Plant seeds indoors 3 to 4 weeks before last frost. Sow seed ½" deep in sterile starting mix, maintain soil temperature of 70°-95°. Transplant into garden when soil temperature reaches at least 70°. Amend soil with rich compost or a garden fertilizer. Direct sow after last frost when soil temperature is at least 70°. Space plants 4' apart.  Water regularly during growing cycle. Cut back or discontinue watering when melons are ripening. Melons need consistently warm soil or the plants will be stunted and the yields reduced. . Ripe watermelon sound hollow when thumped; the rind touching the ground will be yellow white.
---