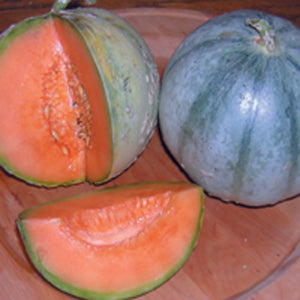 Charentais Cantaloupe
Regular price
$2.95
$0.00
Unit price
per
Open pollinated. Heirloom
90 days.

Only home gardeners and those who are fortunate enough to have tasted these melons growing in the lush countryside of France know their wonderful flavor. Charentais Cantaloupe  have a honey sweetness and aroma found in no other melon. 

Produces loads of 3 1/2 lb., salmon colored fruit. 

Harvest when fruit and vines are showing the first hint of separation.
Planting Directions:  Plant seeds indoors 3 to 4 weeks before last frost. Sow seed ½" deep in sterile starting mix, maintain soil temperature of 75° to 95°. Transplant into garden when soil temperature reaches 65° to 85°. Amend soil with rich compost or a general garden fertilizer. Direct sow after last frost when soil temperature is consistently 70°-85°. Water regularly during growing cycle and cut back or discontinue watering when melons are ripening. Melons need warm soil. If set out too early the plants will be stunted and the yield will be cut dramatically.

---