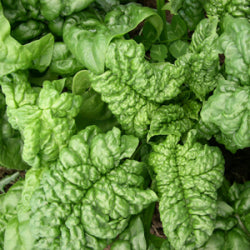 Bloomsdale Long Standing Spinach
Regular price
$2.95
$0.00
Unit price
per
Open Pollinated. Heirloom.
46 days.


Bloomsdale Long Standing Spinach, a distinctive variety because of its glossy, heavy textured, intensely crinkled leaves.

Plants tend to grow erect, remaining in rosette stage before bolting.

This is a standard variety for late spring and early summer crops.

Introduced in 1925.
Planting Directions:  Sow seed outdoors in early spring when soil temperatures have reached 45° to 75 °  Plant seed ½" deep thinning plants 4-6" apart. When preparing the soil add  a general purpose fertilizer or compost. Spinach grows best when soil temperature reaches about  60°. Plant again in fall 60-70 days before first frost. Water lightly and regularly. Spinach bolts during hot weather or when there is more than 14 hours of light.
---