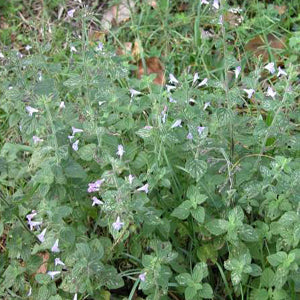 Calamint (Nepitella)
Regular price
$2.95
$0.00
Unit price
per
Calamintha nepeta. Perennial. 18".
Pollinator Friendly
Calamint leaves have a delightful peppermint aroma, stems are covered with a cloud of frothy white or light mauve flowers from June to October. As cooler weather sets in the flowers turn a more lavender color. Use as a ground cover in full sun.  Used in Tuscany to season mushroom and vegetable dishes. Zones 5 to 8.
Planting Directions: Sow seed indoors in sterile seed starting mix 12 weeks before the last frost. Just barely cover seed  and keep a soil temperature of 60° to 85° for best germination. Direct sow in the garden in early spring or early fall. When plants are at least 4" tall transplant to a moist, sunny location with well drained soil. Space plants 10" to 12" apart. Water moderate until plants are established.  Cut back hard after flowering to keep plants looking tidy.  If older plants become woody, cut back hard in spring to regenerate.
---